Online Courses
Welcome to Minnesota Teacher Continuing Education!
Minnesota Teachers Continuing Education offers web resources to find information about continuing education courses, workshops, and conferences for teachers and education professionals in Minnesota. This site assembles a comprehensive listing of teacher workshops, conferences, and courses that offer continuing education unit and graduate credits. We don't want teachers to have to spend countless hours searching the web to find this information.
Enjoy your visit. If you would like to suggest a resource, listing, conference or event that is not listed, contact us. We will review your suggestion and if appropriate we will add it to our listing asap. If you have comments or suggestion as to how we can make this website an even better resource to meet your professional development needs, please contact us. We would love to hear from you!
VESi courses that align with
Common Core Standards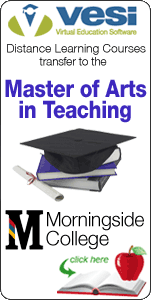 Latest Education News
¡Éxito! student survey winner Jesus Korsi, 10, holds a check in front of (from left) Imperial Valley Press publisher Gerard Delaney, Principal Anna Monninger and fifth-grade teacher Martin Nolasco on Thursday at Blanche Charles Elementary school in Cale
May 23, 2013 11:33 PM


Aristotle Preschool Students Host 4th Annual Mini-Olympics
May 23, 2013 4:13 PM
Niles, IL: – Aristotle Preschool and Kindergarten, part of the Saint Haral..


Preschool and Kindergarten students participate in T-ball at Aristotle Preschool and Kindergarten
May 23, 2013 4:13 PM


Being Blind To Financial Need: Is It Worth It?
May 23, 2013 4:00 PM
Millions of students rely on loans and grants for their studies. But with unive..


HBCU President Asks Dr. Dre, Why Not Us?
May 23, 2013 4:00 PM
Hip-hop mogul Dr. Dre and music producer Jimmy Iovine recently donated $70 mill..


Saint Alphonsus Liguori Catholic School Purchases 30 iPads for Classroom Use
May 23, 2013 2:42 PM
Saint Alphonsus Liguori Catholic School recently purchased 30 iPads for use in i..